Easier Together
The Primavera software suite removes barriers to care for your patient population at non-profit clinics through simplifying technology for better outcomes. To choose the right fit for the most effective healthcare management solutions for your organization's needs, speak with our team today
Primavera Software Solutions Designed
for Growth and Built for Good
We make nonprofit software solutions to help you easily manage your patient population. Experience an integrated software system that helps you easily sort through data. 
Painless Data Reporting
Connect Report tool
Created for free and charitable clinics, this app streamlines annual reporting processes for all clinics and parties involved. Ability at both a clinic and leadership level to easily sort data and flag important information. Manage your practice and patient data with forms, surveys, documentation and audit trails. The Connect report tool simplified view makes complex information straightforward.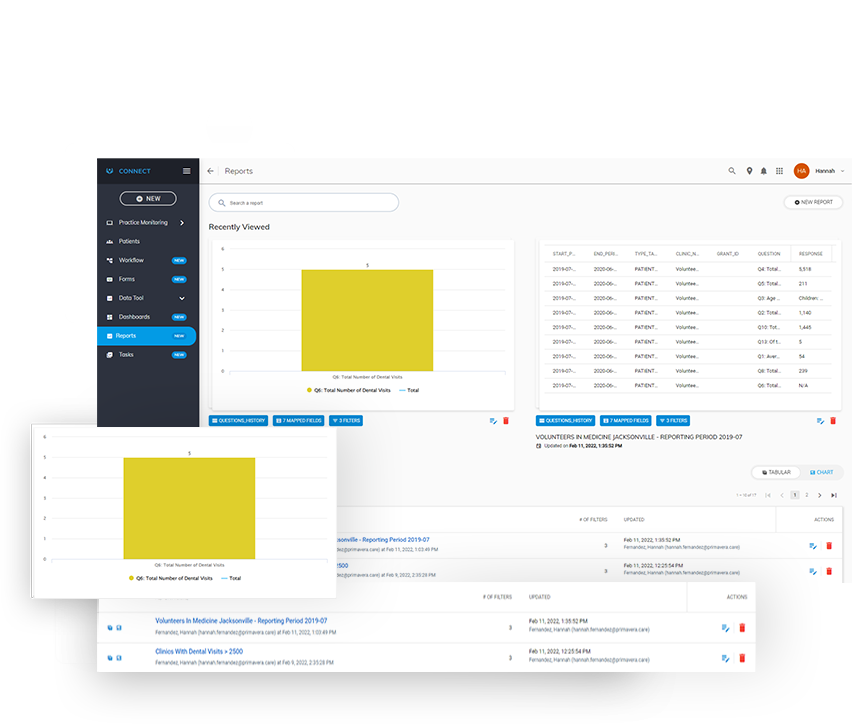 Connect Report Tool
All in one place
 Safe and Secure
 Seamless Documentation
 Simple and Holistic View
 Vital Information Prominently Displayed
 Easy Access from Entire Software Suite
 Audit Trails for Transparency
 Access Forms, Surveys, Cases, and Financials

Admin

Scheduler
No matter where you are on the journey to value-based care, we offer an integrated approach to flourishing under the new model utilizing the Primavera advisors and tools.
Together with the Primavera experts, explore each part of the Primavera healthcare software suite with an assessment. Do you have an urgent need for telehealth or would you prefer case management and analytics at this time? Are you ready to dive in utilizing the full streamlined suite of healthcare solutions?
Discover the real-time data to make proactive decisions affecting your patient population and the health of the business. Save time and energy with better communication with your teams and your patient population while providing the best healthcare.
Experience the simplicity of a well-designed product made just for you. See more patients. Help more people. Make it home in time for dinner with the family. Easier Together.
Non-Profit Clinics